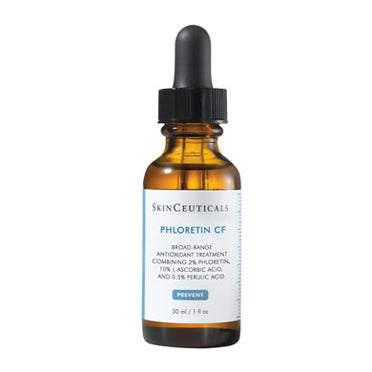 After five years of extensive research, SkinCeuticals brings you breakthrough biodiverse technology featuring phloretin – the newly-identified, potent antioxidant molecule.
Synergistic Antioxidant Combination / Broad-Spectrum Formulation
Prevents premature signs of aging and corrects existing photodamage, especially age spots and laxity.
Divides and conquers the range of reactive oxygen species (ROS) throughout the skin facilitates cellular repair and maintains diversity
Reconstructs the skin's support structure
Boosts skin's natural immunity against DNA impairment to preserve cellular integrity and help prevent serious skin conditions like skin cancer
Properly formulations with optimal concentrations at the precise pH to ensure maximum bio availability.
Note:
L-ascorbic acid will oxidize and darken with time, but will remain effective. May cause a slight tingling sensation. 1 oz.
Information provided by SkinCeuticals.
Usage: Use 4-5 drops each morning after cleansing the skin. Follow with any other treatment products and SPF.
Staff Favorite: Grace: I never, ever leave the house without applying my Phloretin. This antioxidant gives me the confidence knowing I am taking the first step in antiaging and skin cancer prevention.
Aqua/Water/Eau, Dipropylene Glycol, Alcohol Denat, Ascorbic Acid, Butylene Glycol, Triethyl Citrate, Phloretin, Ferulic Acid