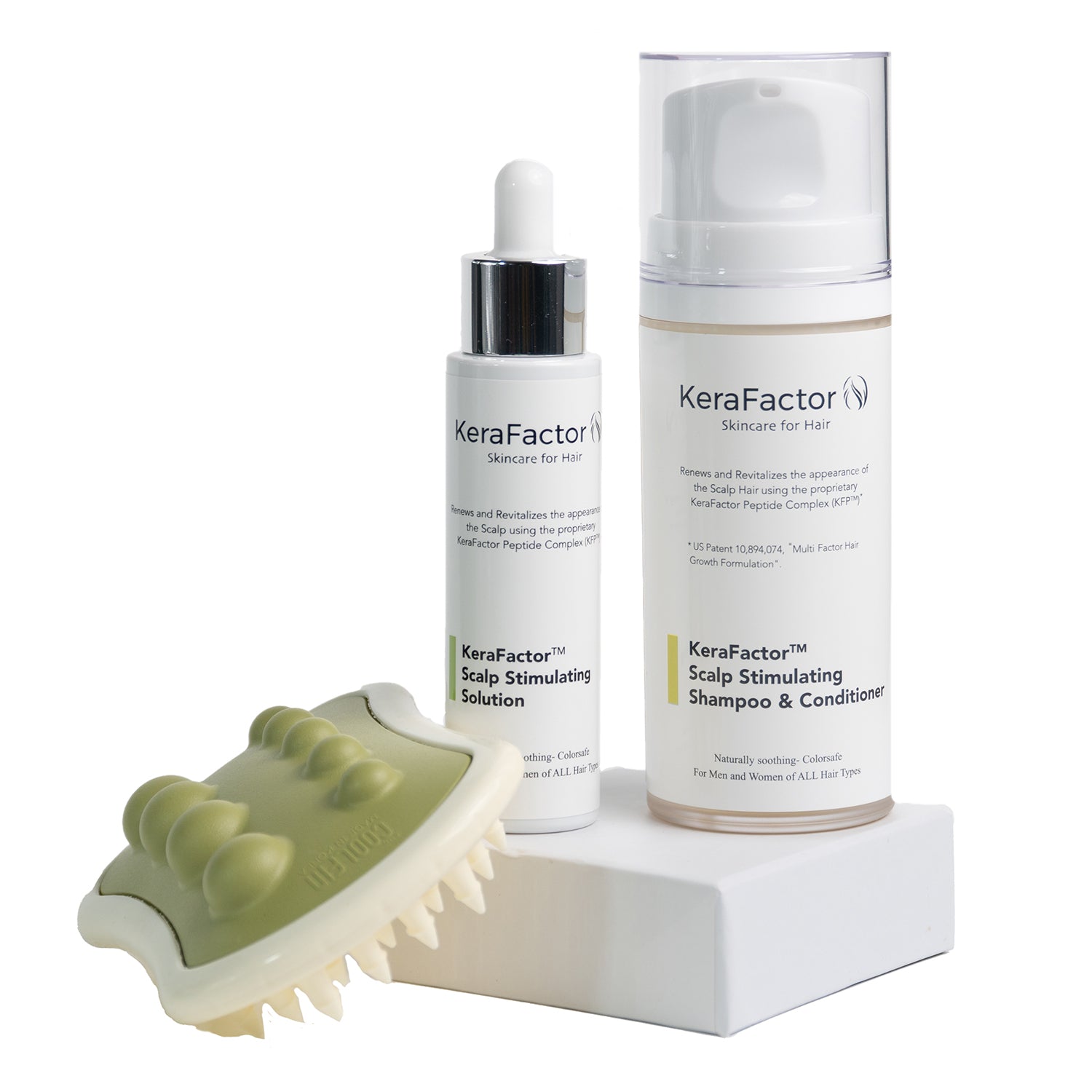 Scalp Stimulating Solution: A proprietary topical hair strengthening and growth solution that combines the exclusive KeraFactor Peptide Complex (KFP) with other scalp stimulating ingredients to promote stronger, smoother, thicker, and fuller looking hair. Paraben and gluten free. 1.69 oz.
Scalp Stimulating Shampoo and Conditioner: Exfoliates and stimulates the scalp and hair using a unique combination of conditioners and growth factors designed to enhance scalp circulation and reinvigorate the scalp and hair, leading to hair that appears fuller, has more body and is healthier. 3.38 oz.
Scalp Stimulating Brush: Can be used on wet or dry hair. The soft bristles remove debris and increase scalp circulation.
Usage: Wet hands before using a pea sized drop of shampoo. Massage scalp while shampooing hair and rinse well with warm water. For solution, use the included dropper to cover all areas of concern. For optimal results place the dropper tip directly in contact with scalp skin and massage solution into scalp with stimulating brush.
Solution: Water, Pentylene Glycol, sh-Oligopeptide-1, sh-Oligopeptide-4, sh-Polypeptide-7, sh-Polypeptide-9, sh-Polypeptide-1, sh-Polypeptide-11, sh-Polypeptide-71, Copper Tripeptide-1, Tetrahydro-curcumin, Niacinamide, p-Anisic Acid, Hyaluronic Acid, Curcumin, Lecithin, Arginine, Xanthan gum, Glycerin, Carbomer, Panthenol, Polysorbate 60, Citric Acid, Disodium EDTA, Sodium Citrate, Phenoxyethanol
Shampoo & Conditioner: Water, Lauryl Glucoside, Decyl Glucoside, Sodium Cocoyl Apple Amino Acids, Glycerin, Coco-Glucoside, Pentylene Glycol, Disodium Laureth Sulfosuccinate, Polyquaternium-10, Butylene Glycol, Trehalose, Niacinamide, Betaine, Panthenol, Mentha Piperita Oil, Citric Acid, Menthol, Glyceryl Caprylate, Caffeine, Ascorbyl Glucoside, Mica, Silk Amino Acid, Polysorbate 60, Yucca Schidigera Leaf/Root/Stem Extract, Taraxacum Officinale Extract, Portulaca Oleracea Extract, Houttuynia Cordata Extract, Adenosine, Tetrahydro- curcumin, Lecithin, Arginine, Copper Tripeptide-1, Sodium Citrate, Curcumin, Sh-Polypeptide-7, Sh-Oligopeptide-1, Sh-Polypeptide-71